TOURNAMENT

MANAGEMENT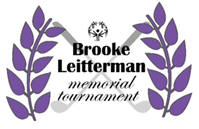 BACKGROUND:
The Leitterman family had always volunteered and participated in the "Special Olympics" Golf Tournament since its inception, but when the tournament was renamed for Brooke, the family's motivation gained momentum. Last year, the CRCC Personnel Club asked the family if they would like to assume primary control and responsibility for managing the tournament with the CRCC club assuming more of a supporting role with offers of being helpers/ workers/ volunteers and sponsors in a more "behind the scenes" role.
Of course, the Leittermans love the idea of being the ones in charge of continuing this important fundraising event! It is their sincere hope and prayer that this event will continue to grow and become an even more significant source of funding for our special athletes of Northwest Missouri!

LEITTERMAN MANAGEMENT TEAM:

Sharing their love of their granddaughter Brooke, Special Olympics and golf, Greg and Janet Leitterman are the perfect pair to share management of this tournament! Although almost 30-year residents of Cameron, they were already involved with special needs children even before they were transferred to Cameron. One year they were paired with special needs children in a trek to the State Fair - long before Brooke was in the picture. The first year in Cameron, with two young children at home, Janet juggled and found the time to go to Maryville to help with the district Special Olympics for NW Missouri. Little did they both know then that this was all a dress rehearsal for their future!
INDIVIDUALLY:
Greg Leitterman is a graduate of Southwest Missouri State University (now MSU) with a BS in Business Management. As a 40 year veteran of the insurance business, he has seen all sides from sales to insurance adjustment to subrogation; he has extensive sales and supervisory experience. Greg has been a civic leader his entire life. Not only is he a longtime member of the Elks and Jaycees, but he has been voted Jaycee of the year and has also served as President of the Jaycees. An avid golfer even before his retirement, you will usually find him on the Cameron course any day the weather cooperates. It is surely no surprise that he was also on the board of the Cameron Golf Association for 15 years and served as its president.
Janet Leitterman attended college at Jefferson County Community College and Southwest Missouri State University. Studying business and accounting, Janet has a lifelong work history in banking, accounting and office management. Besides building a great professional history to qualify her for co-managing a golf tournament, Janet has spent her life directing and participating in both church and civic projects. She also has an award as Jaycee Wife of the year and served as the President of the Jaycee wives. Not content to be a 'golf widow,' Janet also plays golf and has served as the Secretary of the Cameron Golf Association.
Janet and Greg make a formidable team, indeed. But the Leitterman family involvement in ensuring the success of this tournament does not end with this redoubtable pair. Sharing the love of Brooke and a passion for this project includes numerous members of the Leitterman clan as back up for whatever needs to be done!
THE REMAINING CLAN:
Jason Leitterman: Brooke's Dad is an almost 30 year resident of Cameron. He is a graduate of Cameron High School and attended Missouri Western State College. Currently he is a Cameron volunteer Firefighter and is employed by the city of Cameron. Jason enjoys playing golf when he can get over to the course but always plays in the tournament named for his daughter.
Aimee (nee Poland) Leitterman: Jason's wife (and Brooke's stepmother) is a lifelong resident of Cameron, a graduate of Cameron High School, and is finishing her degree in Elementary Education at Missouri Western. After working at Cameron Development Center and in Special Education for Cameron Schools, Aimee plans to pursue teaching in that area when she obtains her teaching certificate. Aimee also has served as a Special Olympics coach and helps with their competitions when she can.
Tonya Lange (Formerly Leitterman): Brooke's Mother is a lifelong resident of Cameron, a graduate of Cameron High School, attended Missouri Western State College and is currently a Radiology Technician at St. Luke's North in Kansas City while still residing in Cameron.
Travis & Rhiannon Leitterman: Brooke's Aunt and Uncle. Travis grew up in Cameron and graduated from Cameron High as well. Both are college graduates and are employed with State Street Bank---a financial firm in Kansas City. Both are also avid golfers; play in the tournament and, in the first year it was named for Brooke, Rhiannon hit a hole in one during the tournament!
Dee (nee Leitterman) & Gina McKinney: Dee is Greg's sister and Brooke's Great Aunt. A graduate of MSU, she will lend her expertise gained in 35 years of Marketing, PR and Marketing research for the tournament's planning and promotion. Both she and her daughter Gina live in other parts of Missouri but will also be in Cameron on Tournament day to assist with registration and logistics.