TOURNAMENT HISTORY ...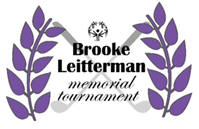 When the first tournament was held at the Cameron Veteran's Memorial Golf Course in Cameron, it was simply called the "Special Olympics Golf Tournament of Cameron." After Brooke Lauren Leitterman was born in 1993 with Down Syndrome, her family and friends became aware of the wonderful benefits all special needs kids can receive from the Special Olympics program. Brooke became an avid and enthusiastic Special Olympics athlete on the Cameron team. She had often benefited from the money raised by the original tournament organizers, the CRCC Personnel Club of the Cameron Crossroads Correctional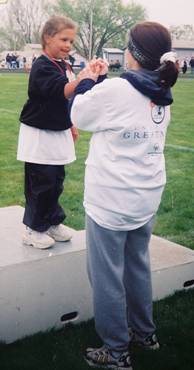 Center. She also would often attend the dinner following the tournament; even helping draw for door prizes and handing out trophies!
Brooke was the type of child who loved everyone and, as time passed, everyone came to know and love her through the family's connection to the tournament. People always seemed to look forward to seeing her when she participated. In early 2004, Brooke was honored at a Special Olympics torch lighting ceremony and carried the torch to start the district games in St. Joseph MO, even though by then Brooke's strength and hair were pretty much gone because of all 'the treatments.' You see, in 2001, at the age of 8, Brooke and her family were told she had developed AML Leukemia.
Even during Brooke's valiant fight against this horrific disease, she continued to participate in Special Olympics as her health would allow, often winning her events. She loved the sports and she adored her fellow athletes. Brooke was a living example of the Special Olympics Oath: "Let me win, but if I cannot win, let me be brave in the attempt."
Brooke was very brave in her attempt to fight against her biggest opponent but she lost her race against Leukemia. On November 23, 2004 at the age of 11, Brooke Lauren Leitterman earned her angel wings.
The following year, the tournament organizers contacted the Leitterman family and asked if they could rename the tournament the "Brooke Leitterman Memorial Golf Tournament for Special Olympics" to honor her memory. Of course, they were thrilled and even more motivated to be involved and continue to raise money for the one thing that Brooke loved more than life itself - "her" Special Olympics!